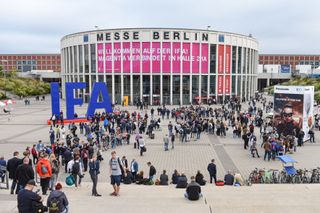 The annual IFA – Consumer Electronics Unlimited expo is heating up the streets of Berlin this week, with keynotes taking place on 04 and 05 September before the show opens its doors proper from 06-11 September.
Though it's not specifically a photography oriented event, some of the big players in imaging technology will be attending – the likes of Sony, Panasonic, Sharp and Honor/Huawei – so we expect some big showings and potential announcements!
What is IFA 2019?
Europe's biggest technology show, IFA is a bit like the annual CES event in Las Vegas, but with a distinctly German flavor. The show traces its roots to 1924 when it was just a humble radio expo, evidenced by the IFA's full name: Internationale Funkausstellung, "International Radio Exhibition".
Today it's one of the biggest consumer electronics conventions in the world, and we expect some serious new technology to be on show – particularly in the world of photography and imaging.
With everything from new image sensors to 8K video to the latest developments in 5G, there's plenty to get excited about. Here's what has been announced at the show already, followed by some educated guesses on things we'd be excited to see…
IFA 2019 announcements
Nikon D6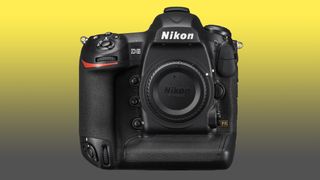 Okay, this one isn't technically an IFA 2019 announcement, since Nikon isn't actually exhibiting at the show. But Nikon did choose IFA press day to announce the arrival of  its new flagship DSLR, the Nikon D6.
There is not much detail in the announcement but the Nikon D6 rumors pack all manner of improvements, including a new sensor, in-body image stabilization inherited from the Nikon Z6 and Nikon Z7, as well as dual CFExpress slots – and, coincidentally enough, SanDisk CFExpress cards just so happened to go on sale this week.
Also announced by NIkon at the same time is the development of a monster 120-300mm f/2.8 professional lens to work with the D6 and other Nikon DSLRs. And lest its mirrorless Z range be forgotten, Nikon also unveiled the full spec, details and price for the Nikon Z 24mm f/1.8 S prime lens.
IFA 2019 rumors and predictions
Sigma fp
The Sigma fp (which apparently stands for "fortissimo pianissimo") the new camera will feature a 24.6-megapixel sensor and it will use a classic Bayer color filter array, not Sigma's own multi-layer Foveon technology as we had originally believed the company to be working on.
Designed to be the smallest and lightest full frame mirrorless camera ever, it will take interchangeable L-Mount lenses (including three new L-Mount lenseslaunched at the same time as the Sigma fp) and is designed to break the pattern of current camera design. Sigma's idea is "how a camera can be", not conforming to current categories and hierarchies.
With the company exhibiting at IFA 2019, it seems a shoo-in that the Sigma fp will be there to play with.
Sharp 8K Video Camera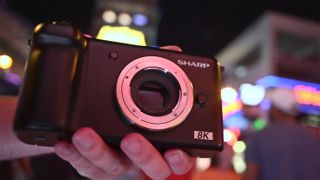 One of the devices we're most excited to see at IFA 2019 is the Sharp 8K Video Camera, which we expect to get hands-on with at the show since Sharp has been very forthcoming in letting the press take the camera for a test drive.
Boasting a breakthrough 33MP Micro Four Thirds sensor, a 5-inch(!) touchscreen and 10-bit 8K at 30 frames per second, this camera has serious potential for cinematographers – especially as it out-rezzes the recent pair of 6K cameras, the Blackmagic Pocket Cinema Camera 6K and the Panasonic Lumix S1H.
At the show we expect Sharp to finally confirm the price point – which the company had previously estimated to be between $3,000 and $5,000 – along with the release date, which should still be on track for later this year.
Sony A7S III
Sony has been blasting out new cameras recently, with the Sony A7R IV, Sony A6100 and Sony A6600 all being announced over the past few weeks – and all of these will no doubt be proudly on display in Berlin.
There was one camera, though, that was notable by its absence: the Sony A7S III. All signs still point towards this body being announced before the end of the year, and it seems to make perfect sense for the company to reveal it at IFA 2019 when the eyes of the tech world are squarely watching.
Sony's video-oriented A7S II is dearly in need of an update, with its aging 12.2MP sensor looking pretty creaky compared to the cutting-edge 24.2MP Panasonic S1H and 33MP Sharp 8K Video Camera.
And of course, with Sony about to go all-on on 8K throughout its line of TVs and electronics, it would be nice to see it crack the 8K barrier with the A7S III…
Samsung Galaxy Fold Redux
After a spectacularly catastrophic launch earlier this year, the mobile giant placed the Samsung Galaxy Fold back in its cocoon.
Having promoted the product as the future of the phone industry, Samsung was the victim of its own global spotlight when the first wave of Folds were sent out to reviewers, only to promptly break in the most high profile of fashion.
This prompted a recall, pre-order cancellations, a postponed launch and months of uncertainty before the company at last confirmed that the problems had been identified, remedied, and the Fold would finally re-debut.
A re-announcement at IFA seems like a given, and Samsung is confident that its prized camera phone will now emerge a beautiful butterfly, rather than the half-gestated gloopy caterpillar of its last incarnation. The question is, how confident is Joe Public?
The Kodak… ?
We know that Kodak has a something brand new to launch at IFA 2019, so it's just a question as to what it could be. Recently the iconic brand has given us the Kodak Smile, a hybrid device that it hoped would be one of the best instant cameras around.
Could the manufacturer be working on an update to its digital/instant camera line, perhaps along the lines of the Fujifilm instax Mini LiPlay? Or could it be planning to resurrect a classic film stock, the same way Fujifilm Acros came back from the dead this year?
Of course, it could do something totally leftfield and announce something completely bonkers like Kodakcoin – its cryptocurrency aimed at photographers.
Huawei Mate 30 Pro
It's never a dull moment when Huawei is around. All eyes will be on the brand, sitting as it does at the center of the current Sino-American trade war. And we know that it will be revealing more about its Honor TV, a smart television with a pop-up webcam that's powered by Huawei's HarmonyOS.
The manufacturer's bespoke operating system will certainly be a key talking point for the Huawei Mate 30 and Mate 30 Pro. The new camera phones are rumored to be launching without Google support, meaning that HarmonyOS might have to do a lot of heavy lifting.
We know that the Huawei Mate 30 will launch on 19 September in Munich, but given the proximity in both date and geography we would be astonished if it didn't make a showing at IFA – especially as the company will be announcing the Kirin 990 processor, which will power the phone.
The phones will feature a circular quad-camera array and an extreme waterfall display – we can't wait to see what kind of sensors it's packing!
Samsung Galaxy S11
Samsung should have a big showing at IFA 2019, as the company has been behind some enormous imaging innovations recently.
If you've been keeping up with the latest smartphone news, you'll know that it has announced the Samsung Isocell Bright HMX 108-megapixel image sensor. We know that this sensor will make its debut in a 108MP Xiaomi Mi handset, which will have the power of a medium format camera phone.
However, the Samsung Galaxy S11 is also anticipated to feature the new sensor. The South Korean giant usually announces the S line in January but, given the seismic developments in smartphones this year, we wouldn't rule out seeing the S11 make a surprise appearance in Berlin.
Asus ROG II
It may be designed for gaming, but the new Asus ROG II is no slouch in terms of megapixels – or storage, as it's rumored to come with up to a whopping 1TB of on-board storage.
The main rear camera consists of two sensors: 48MP and 13MP, with a 125° ultra wide-angle field of view, and there's also a 24MP selfie camera. The phone is centered around the Qualcomm Snapdragon 855 Plus chip (and is the first phone to implement it), and as such is expected to boast blisteringly fast processing speeds.
Among the many computing innovations it will no doubt have on show, we're sure that Asus will be proudly displaying the ROG II.
We'll be keeping this page updated with the latest news, announcements and hands-ons throughout the course of the show. So make sure to check back over the rest of the week to see everything that happens, as it happens, at IFA 2019!
["source=digitalcameraworld"]